Regular price
Sale price
$56.00 USD
Unit price
per
Sale
Sold out
Elevate your craft to a whole new level with our Stunning Silicone Mold with Crystals Alphabet. Handcrafted with meticulous attention to detail, this artistic resin casting tool is a must-have for your creative arsenal. It's not just a tool, it's an invitation to create, to explore, and to bring your artistic visions to life.

Made from high-quality, durable silicone, this mold is designed to last. It features a full alphabet set, each letter adorned with dainty, sparkling crystals that add an extra touch of elegance to your creations. The mold measures approximately 3 cm by 2,5 cm, a perfect size for creating customized accessories, jewelry, home decor items, and more. The letters are about 1 cm  in height, making them easily noticeable yet still delicate. Using this mold is easy and fun, simply pour your resin, add your personal touch, and let it cure. Its flexibility allows for effortless demolding, and it's also easy to clean with warm soapy water.

This Stunning Silicone Mold with Crystals Alphabet is more than just an artistic resin casting tool, it's a gateway to endless creative possibilities. It's great for creating personalized accessories and unique art pieces, making it an excellent gift for artists or DIY enthusiasts. Whether it's a birthday, anniversary, or just because, this mold is a perfect way to show your loved ones how well you know their creative side.


Shipping & Returns

IMPORTANT INFORMATION - SHIPPING IMPLICATIONS

99% of our orders will be made and shipped within 3-5 business days, but there may be delays and problems with the courier. We guarantee that all orders will be shipped within 3-5 business days of being placed. If a specific delivery date is important, please email us prior to placing your order to discuss options.

We use reliable delivery services ( EVRI ) but they are occasionally struggling. Please take this into account before you order. During busy periods we may be capped on how many orders we can send with our courier, with no warning, meaning orders will be held back a day or two.


SHIPPING INFORMATION


We offer a selection of shipping services depending on what you're ordering and what your delivery address is. Shipping cost will be affected by weight, size, product, and the delivery address. For a quote, put the order through the website. We ship with;

EVRI


Please note, under certain circumstances the shipping cost might differ from what is shown at check-out, or we discover a service is not available. If this is the case and it will affect your cost or delivery time, we will contact you before proceeding with your order.



SHIPPING OUTSIDE THE UK

The shopping cart will automatically calculate the shipping cost when you check out. Please note - this is an estimate, and on rare occasions the true shipping cost will be higher than this, if this is the case we will contact you with the correct shipping cost before proceeding with your order. Sometimes shipping costs changes to some countries, or some services are no longer available to us, causing the cost to be different than what is set on our site.


ORDERING FROM OUTSIDE THE UK?


Your order may still be subject to local sales taxes and duties when it arrives in your country. These are usually calculated at the time the package clears customs. Any additional charges are the responsibility of the recipient. We have no control over these charges, and customs policies vary widely from country to country, so you should contact your local customs office for further information.



If you don't pay the local import duties and taxes it will likely mean your order either being:


destroyed by your local customs office; or

goods being returned to us at the cost of the consignee


ORDERS LOST IN TRANSIT

Sometimes orders go missing. This is out of our control and it is incredibly frustrating for you as well as us. We have selected a small group of reliable shipping suppliers to avoid this as much as possible. Please note, once posted, we can only rely on the carrier to get the parcel to you. This means that we simply can not guarantee delivery dates - we wish we could, but as we have to rely on a third party to actually get the parcel to you, it is out of our control. Most of the time there are no problems, but occasionally there can be delays which we have no way of avoiding.



Although we use all reasonable means to ensure that your order is delivered within a specified time, we cannot accept any responsibility for late deliveries due to circumstances outside of our control. We are not able to refund delivery costs even for an upgraded delivery, as the Next Day option is not guaranteed. We will do our best to inform you of any delays we are aware of.


If you want a speedier resolution in case your parcel goes missing or is delayed, we strongly recommend you choose the Next Day Delivery - we will the resend any missing items after only 7 working days.


Extra information



We do not ship orders on Saturday, Sunday, or Bank Holidays.



We do not ship to P.O Box or BFPO addresses.



Although we use all reasonable means to ensure that your order is delivered within a specified time, we cannot accept any responsibility for late deliveries due to circumstances outside of our control. We will do our best to inform you of any delays we are aware of.

MY PARCEL HASN'T ARRIVED:

 

First of all, please ask your neighbours and local sorting office if the parcel is with them, and check any "safe spaces" you might have used in the past for parcel deliveries. We've had many cases where the Royal Mail and couriers have delivered the parcel to a neighbour, or left it in a safe spot, without leaving a card with the recipient.

 

If you choose any other shipping option we have to ask you to wait 15 working days after shipping before we can send a replacement or refund you. Royal Mail and couriers won't class the parcel as missing until then. You will also be asked to fill in a Lost Post form and return to Royal Mail.

 

IMPORTANT:

You must inform us of missing parcels within 10 days of placing your order or we will not be able to help you.

Please remember the law states we have 30 days to get your order to you.

 Please, help us help you.

 Lost or delayed parcels are extremely frustrating for both you and us. We do understand how annoying it is for you and we feel pretty helpless. If you report a parcel as missing, we'll start a claim as soon as the carrier will accept it, as well as resend your order.

 

The claim form is fiddly, complicated and takes a long time to complete, we have to dig out supplier invoices to send copies as we only get back what we purchased the products for.

 

Now, this is where we need your help. If you end up with a lost parcel and we resend it to you (or refund you), we will fill out a claim form. EVRI might write to you asking if you ever received the parcel from us - if you don't respond to their letter within 7 days, they will consider the parcel as delivered and will simply close our claim. Please, if you get a letter, take the time to respond to EVRI. We know it is a hassle, and wish there was an easier way.

DAMAGED GOODS

It is important you check your delivery as soon as it arrives. If you receive a parcel that has been damaged, or the packaging has been ripped or torn, take pictures and ask the delivery person to make a note of the damage before you sign for the goods. Please send us the photograph clearly showing the problem by email within 24 hours of delivery.

If you discover anything is damaged after the delivery person has left, again, please take photos and email to info@ideasdecor.shop within 24 hours of receiving the goods.
Care Instructions

Working with silicone molds is not difficult. But in this area, as in most others, it is important to know some subtleties and nuances. What to pay attention to when pouring epoxy resin into such molds:

The mold must be clean and dry.

Only in this case the surface of the casting will look perfect.



      2.Before starting work, the mold should be placed on a flat surface,to avoid uneven filling.
 
      3.The resin should be stirred thoroughly, trying to avoid bubbles in the resin unless they are part of your design idea.

      4. After adding a hardener to the epoxy, you have at least 10-15 minutes,to fill it in mold. 

      5. When using complex molds, which include a large number of parts, vibrating tables are used in production. With their help, the filler is evenly distributed in the form, and the detailing of the finished product is high. 

      6. If the potting compound is to be colored, the pigment is added to the resin after it has been mixed with the hardener. The mass will not harden in the mold if the dye is not thoroughly mixed.
Share
View full details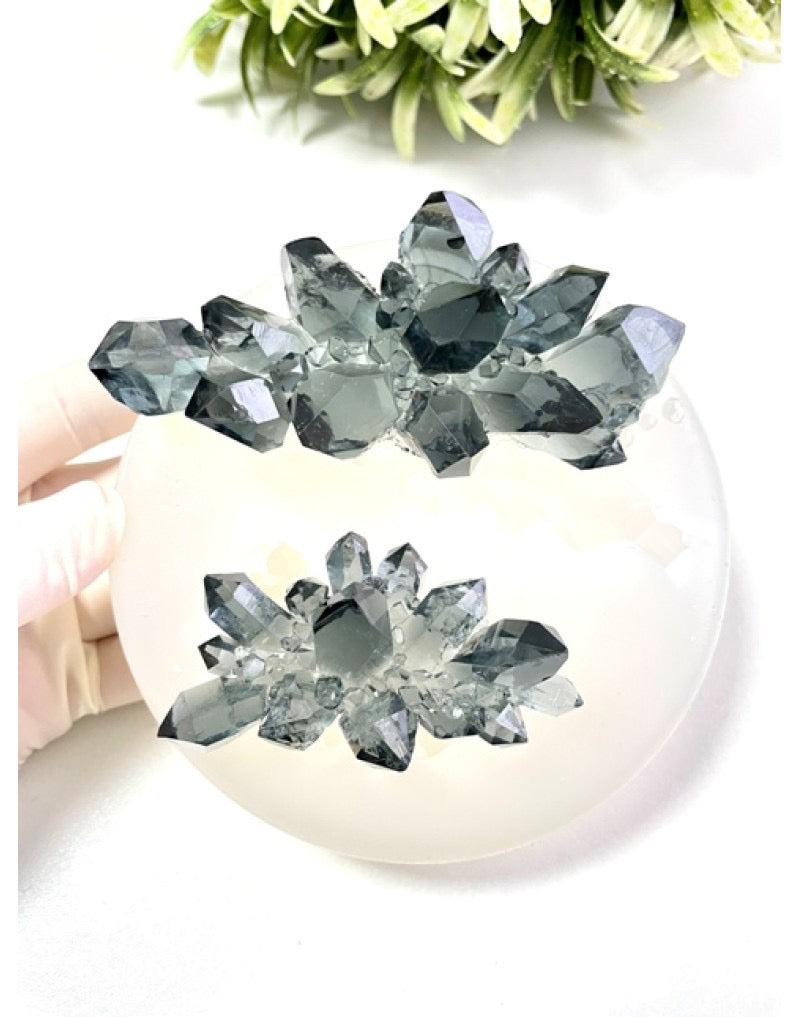 CRYSTAL MOLDS - CREATE SHINING RESIN JEWELRY
Silicone molds are very popular in the field of professional and amateur jewelry making. They come in different sizes and shapes. One of the most popular among modern jewelers are crystal molds made of silicone based on a platinum catalyst.
PROPERTIES AND CHARACTERISTICS OF MOLD CRYSTALS

Crystal molds made of platinum silicone are valued for their practicality and lack of shrinkage.
But these are far from their only advantages. Important features of these forms include:

Flexibility
Elastic molds for working with epoxy bend and stretch, making it easy to attract the casting from them.

Strength
Durable silicone molds require increased tensile strength.

Ease of use
To pour epoxy into silicone molds, special crystals do not require skills and knowledge. It is enough that the area is clean and standing on a flat surface.


Possibility of multiple use
Silicone crystal molds can be used for a long time. They are a series of epoxy resin products.

Easy post-processing of finished products
If the form is composite, then the maximum that can be assembled is grinding the seams. In silicone molds, products are smooth and glossy.

Safety
Silicone molds are odorless and made from non-toxic materials. You can use them not only in production, but also at home.